Hollister wrote:
I'm sure everyone would be thrilled if you made a thread for all your sketches, LadyPyro. I know I would. Love the new one, I'm still working on the others!

It doesn't matter much, because I imagine the hero may have access to several types, but his gloves are always a little different. In Success and Join the Club, he's wearing a fingerless glove with a square hole and a wrist cuff, while Do What looks more like gauntlets with full fingers. The Juggling Thief and Mage pics look similar, with bracer-style cuffs and no fingers, though the juggler looks like his have laces, but the mage may not. I like the variety, but it caught my eye.

I'll have this evening to do some coloring and I have a new background ink from rmullen (finally) to work on for the game, maybe I'll get something to post tonight.
Good eye Hollister! It's true, I don't keep our hero very constant. I think I finally decided on a hair style but his face changes in various ways between pictures, along with clothing. (You probably noticed the magic pic was the first use of dramatic cape as well).
I only have two excuses for it, the first is that I haven't decided quite how I wanted the hero to look. Normally I wouldn't have posted anything until I had a set look and style down so that I could keep things consistent, but decided against it. I was excited to show you guys what I had done so I didn't take the time to do up a set of model sheets or anything. Also I figured I wasn't doing a comic or animation so a little inconsistency wouldn't matter to much.
The other is that, while most of my drawing is done on my beautiful drawing table at my place, with the recent scanner issues, I find I've been drawing wherever there happens to be a working scanner. (Which means all my notes, sketches and at times, sobriety are not accessible)
And because I don't like posting on this thread without having something to offer, here's a sketch from my original ones that I had no intention of posting (But I don't have a scanner to scan something new)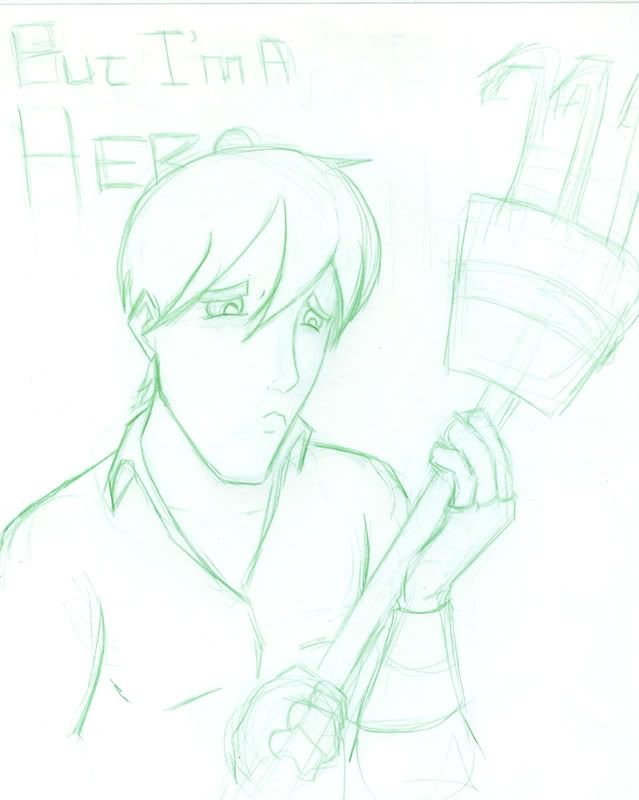 It never got finished, so don't judge to harshly! :P