Thanks for the review, Paladinlover. Glad to hear that you enjoyed playing it.

Quote:
I was honestly surprised at the pre-rendered 3D used for the characters, even though I know that these aren't truly 3D art, I was sorta expecting 100% hand-drawn stuff.
The pre-rendered characters look pretty good against the backgrounds if your monitor places thin scan-lines across the screen. My monitor does this, so whenever I play the game, the sprites look something like Donkey Kong Country on the SNES. But most monitors don't place scan-lines across the screen, which makes the pre-rendered sprites stand out a little more from the backgrounds. I noticed this when running Al Emmo on a laptop.
We did start out using entirely 2D based sprites, as a matter of fact. The game actually started its life under the name of "West Quest" and was a 320x200 project that was supposed to be finished in 2 weeks. It ended up being shelved at first, but we revived it again later on.
After picking it back up, we already had a basic premise for the plot. So we managed to pull off a really creative brainstorming speed-run where AGD1 and I wrote all the game's puzzles from start to end, in a single night. With the plot finalized, we started to write down all of the animations that would be required for every character in the game. There were literally hundreds (if not thousands) of them. Anyway, we started work on the in-game animations as 2D sprites, but before too long we realized that it was going to be extremely time-consuming to create as many detailed 2D sprites that were necessary for such a large game. 640x400 resolution takes at least twice as long by design, since the sprites need to be essentially 4 times more detailed than their 320x200 equivalents. And they generally need more frames in order for the animation to look more fluid, too.
Here are a few examples of what Al Emmo's sprite looked like in its 320x200 2D incarnation:




And an example of the 320x200 version of the "Rita's House" background: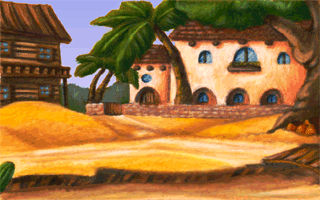 After we revived, the project and upgraded the resolution to 640x400, we also upgraded Al Emmo's 2D sprite to look something like this (admittedly rough and un-refined) sprite:

The backgrounds were also re-sketched and hand-painted to look like this: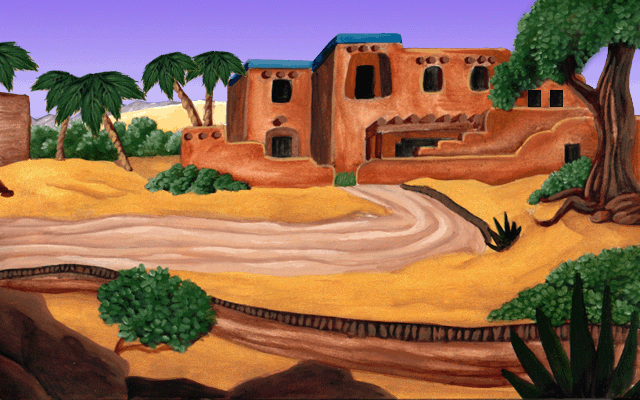 At this point, a professional 3D animator contacted us, who had played King's Quest 2 VGA and offered to help us out with the game. He remodeled Al Emmo in 3D to show us what he was capable of. He had a very unique style and made a great 3D caricature model of Al, based on the original sprites and conceptual art we sent him. From that point on, we decided that using pre-rendered 3D animations for the game would result in it being done much faster. (Too bad about Murphy's Law rearing its ugly head.)
The 3D animator's new Al animations looked much more detailed, like this:

Originally, he was cel-shading them (so they looked less 3D and more cartoon-like) but they didn't seem to look right in the game and the 3D ones actually looked better. Once again, the hand-painted backgrounds were pixel-edited (to match the new detail of the animations) to look like this: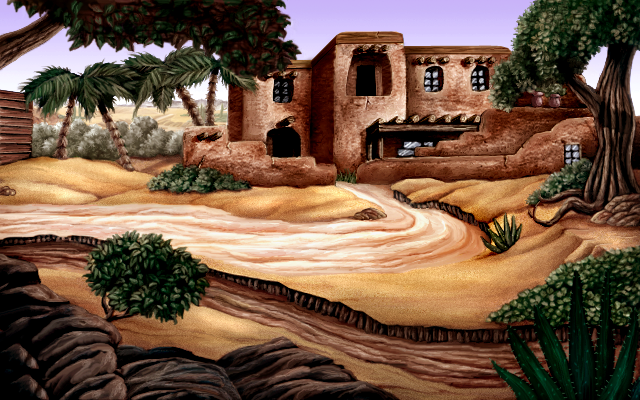 A quick comparison of all assets combined, as seen below, should make it apparent why we opted to go with choice C: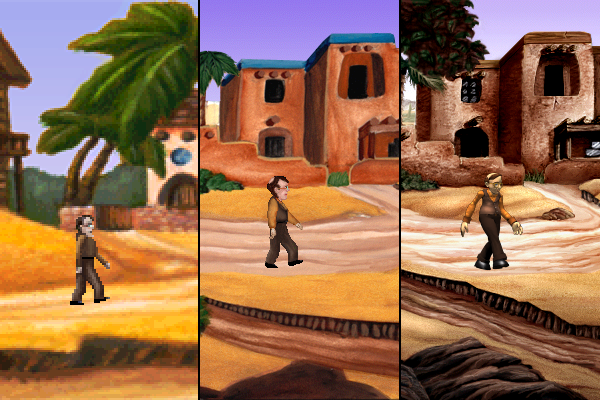 The main problem, I feel, wasn't that we went 3D. It was the fact that there were different 3D artists, working in different styles. Had all of the models been made by the same guy who modeled Al Emmo, there would have been a fantastic consistency to the characters and things would have flowed more smoothly, since we would have been able to rely on his 3D technical know-how to make them "fit-in" better with the 2D backgrounds, or make the 3D renderings look more 2D-like.
However, as things are, we weren't paying workers at that early stage, and real-life stepped in and threw him a curve ball. He had to bail out of the project; but he had already given us the model (and permission to use it in the game), and half of Al's animations had already been completed. We didn't want to throw them out and start on 2D ones again, so we then had to replace him with other 3D animators -- most of which were still in school and worked for us on an intern basis. Even one of the animators from Larry 7, Al Eufrasio, joined the development team for a while, but simply offered some advice and didn't contribute any assets to the project. Quite a few of these modelers/animators were unreliable and dropped off the radar completely. Fortunately, I knew a few people who were friends (or friends of friends) and they helped things moving again. But I eventually decided to learn how to animate using 3D Studio Max with the biped plug-in, so that I could finish all the remaining animations myself without having to rely on outside parties.
These setbacks resulted in the game running about a year and a half over-schedule, but we picked up a LOT of very valuable experience along the way. Commercial games are a VERY different kettle of fish from fan-games and are much, much harder to get "out there". You certainly don't have the mainstream support that most popular games have, and since it's commercial, it's also easy for some people to influence others not to try the game based on forum buzz or 'bad things' they've heard about it. Whereas large numbers of people are always going to try a fan-game since it's a free download. I will say that a lot of the flack the game has copped is unwarranted; I think people were expecting this to be King's Quest 2 VGA but it's really a totally different type of game. Yet underneath, it still has the same level of depth, easter eggs, and care put into it as KQ2VGA did. And I think the Sierra-like qualities will be very obvious to anyone who plays it in depth.
The experience with Al Emmo has been nothing short of exhausting, and I now know how I'd do practically everything differently and more efficiently if I were to remake it again.
For all the trouble it took to get the game finished, I'm extremely happy with how the end result turned out, especially the quality of the improvements over the previous game we had worked on, which was King's Quest 2 VGA.
Oh, and the 3D cutscenes were originally going to be done by the same 3D animator who modeled Al, but we had to make other arrangements when he couldn't stay on. We got a really raw deal with the modelers who worked on the outdoor environmental models for the cutscenes, as they essentially turned in models that were rushed and, for all intents and purposes, unusable. They charged by the polygon, which limited how good the environments looked in appearance. Another guy who we hired to animate the 3D movies spent tons of additional time fixing all the bad geometry in these environment models as best he could (which he did free of charge, I might add). A lot was learned while making the 3D cutscenes, and I'm still glad that we did them and gained all the knowledge about 3D movies, which would not have been gained, had we gone with 2D comics instead.
Quote:
One of the downsides in the game is it's linear gameplay and lack of a points system. Though this kind of adventure game is just fine, and even some of Sierra's greatest classics were pretty linear (it was actually pretty easy to get full points in QFG 4 even without the use of a points list assisted walkthrough), it would added to the challenge and replayablity to the game to get all the way to the ending and realise that you missed two (or three or four) dozen points that you missed and rub your chin, thinking hard and visualizing the whole game again in your mind, wondering where and how you can get those last few points and get the perfect game at long last.
That's a good point (no pun intended). I guess the points system was dropped because we thought it was redundant or unnecessary at the time. We also scrapped death scenes because we we were so far behind schedule that we already had too much work on our plate. In the original screenplay, you could die in most places.
As for the linearity, well, we weren't really trying to do "the next big thing" with Al Emmo. It really only started its life as a test project that grew into something bigger. So the simplicity of the game remained intact, even though the rest of the game received several "upgrades". The complexity of other games we were working on simultaneously (such as QFG2VGA) also affected how complex we could afford to make this one. The more complex and less-linear a game, the longer time it takes to complete. Additionally, I guess most adventures are somewhat linear in story structure, like you stated.
However, you may have noticed the Export file that gets dumped at the end of the game? The reason for this, is that it tracks every multiple choice decision you made in the game (as well as pretty much every other variable, including your inventory items and their quantity, right down to which option you chose when the Bartender asks you a question). If we ever make a sequel to Al Emmo, then it will be possible to load your Export file into "Al Emmo 2" and have game number#2 recognize every decision you made, the exact way you solved all multiple choice puzzles, and the specific path you played through Al Emmo 1. This would mean that certain puzzles and story line paths would open up in "Al Emmo 2"; and these would only occur if you did certain things in Al Emmo 1. And Al Emmo 1's export file wouldn't only limit changes in Al Emmo 2, but could also have possible repercussions in, say, Al Emmo 4. So, while each game is somewhat linear, the sequels (if ever made) are intended to have cross-game replayability in a way that would put QFG's export files to shame.

It was my idea for adding a non-conventional kind of replayability to a genre that's normally known for its linearity.
Time will tell if we get to use the export file to it's intended potential, I guess.
Anyhow, thanks for the comments. Hope the insight helps!