Update: November 26th, 2013

Price: $9.99 USD
Al Emmo and the Lost Dutchman's Mine version 4.0 has been released! This new version has several major improvements based on player feedback we've received over the years. If you've never played the game before, now is the perfect opportunity to give this enhanced edition a try!
SCREENSHOTS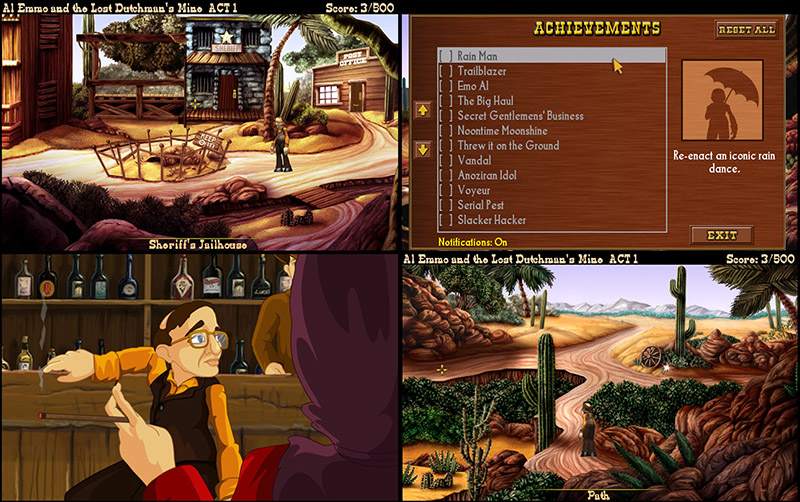 KEY FEATURES
* A new Al Emmo (protagonist) voice actor
* Improved 2D Cutscene movies
* Scoring system with 500 points
* Achievement system with 20 achievements
* Tooltip bar that shows mouse-over hotspots
* Much more! (See full list at bottom of post)
WHERE TO BUY THE GAME
Himalaya Store - Unlockable trial version
(Free 60 Minute Trial)
Buy from Desura
(More to come.)
AVAILABILITY ON STEAM
The game is still in Greenlight, but is moving up. If you have a Steam account, we'd really appreciate your "Yes" vote. And if you leave a comment too, you'll automatically go into our prize draw to win some free Steam games once greenlit! Also, all owners of the game will get a Steam key.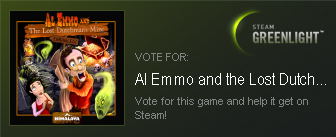 UPGRADING TO v4.0
Upgrading to version 4.0 is free for customers who purchased the game directly from Himalaya Studios. If you purchased the Digital Download version, simply uninstall your old version, then re-install version 4.0. The same serial key number you were allocated will work.
If you bought the game from another portal/webstore, the new version will be rolled out sometime in December.
CHANGES TO VERSION 4.0
A full list of additions, features, improvements, and bug fixes is below.
WARNING: GAME SPOILERS AHEAD
- Added: New voice actor for Al Emmo
- Added: New voice actor for Everette the Exterminator
- Added: Improved 2D, hand-animated cutscenes to replace older 3D versions
- Added: New Himalaya Studios logo animation
- Added: New scoring system with a total of 500 points
- Added: Achievements system with 20 achievements to unlock
- Added: Tooltip GUI which shows mouse-over hotspot names
- Added: The [ and ] keys will cycle backwards and forwards through inventory items
- Added: Back-end functionality for touch-screen devices
- Added: Some newly recorded speech for Rita
- Added: Animated light glints to several small, obtainable objects to make them more visible
- Added: Max Nearest Neighbour filter to the setup program
- Fixed: Music and audio stuttering bug
- Fixed: Pressing Enter on Quit & Restart GUIs now acts like clicking the "yes" button
- Fixed: Esc key will now cancel the map of Anozira
- Fixed: Esc will no longer skip the entire tequila sequence in the saloon
- Fixed: Al can now run inside Koko's store
- Fixed: Improved Al's mule dismounting animation at Rita's house
- Fixed: Improved Bubba's flag animation
- Fixed: Updated the PDF manual with the latest graphics and information
- Fixed: Koko's greeting to Al in Act 6 if Al already visited him since the raid
- Fixed: Made it so you must talk to Everette before you can give him the termites
- Fixed: More legible font is used in the journals
- Fixed: Moved the mine cart's starting position further right on the tracks
- Fixed: Bug where the same desert music could play twice in succession
- Fixed: Bug where the top left and right menus would not animate in the mine cliff screen
- Fixed: Bug where you could burn the gallows ropes with the matchbook more than once
- Fixed: several minor spelling/grammar errors
- Fixed: other small glitches and bugs
- Changed: Interface improvements (such as tweening GUIs)
- Changed: Made many items and objects easier to click on to reduce pixel-hunting
- Changed: Rita's speaking portrait
- Changed: Rita's song cutscene has been replaced with a new in-game scene
- Changed: Increased the odds of seeing the fishing Easter Eggs at the oasis
- Changed: Improved the visual appearance of Kevin's fire extinguisher spray
- Changed: Retouched several characters' dialog portraits
- Changed: The half-map rubbing inventory item now includes a piece of charcoal
- Changed: Al now looks at the half-map rubbing after acquiring it (close-up)
- Changed: Made it easier to walk off the screen edges when leaving a room
- Changed: Various dialogue and text tweaks
- Changed: Tweaked the way save/replace game GUIs are handled